One more!
One more!
19 January 2018 (by Nicola Green (ngreen))
From the other side of our group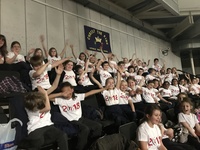 Some of you asked for more photos - we took lots but can't upload them all to the app because only one can be added at a time. We'll showcase them in a YV assembly very soon! Here's one more from the other end of the rows. Please remember that photographs must not be posted on social media for safeguarding reasons.